Valedictory Ceremony of International Day of Yoga
The Valedictory Ceremony of International Day of Yoga was held in MRPL Employees Recreation Centre (MERC) on 27.6.2019. Shri M Venkatesh, our Managing Director, Shri Rajeev Kushwah, CVO, Shri M Vinayakumar, GGM I/c Refinery, senior officers, CISF Personnel, Principal, Staff & Students of DPS and employees & their family members participated in the programme.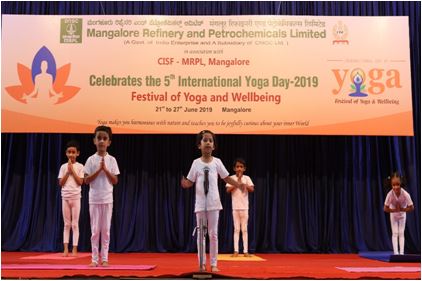 The audience was spellbound to watch a spectacular Yoga sequence of five 1st standard students of DPS. The children performed the movements of Yoga and explained the benefits of each movement to the audience. It was followed by a Yoga dance by MRPL WIPS members, namely Ms Yashaswini, Ms Latha, Ms Vidya, Ms Karthiayani, Ms Jyoti, Ms Priya D and Ms Navya. They presented the Yoga steps in an attractive dance form. DPS school children of different classes presented some unique presentations on Yoga. CISF Personnel also performed a Yoga sequence.
Prizes were distributed to the winners of different competitions conducted during the week for Employees, dependents, CISF Personnel & their dependents and DPS school children.
Yoga sessions were held in the morning during the week (22nd – 27th June) which were open to employees & their dependents, CISF personnel & their dependents and DPS children. Many Yoga enthusiasts took benefit out of these sessions.