The valedictory ceremony of 30th Inter Unit PSPB Chess Tournament was held in MRPL Employees Recreation Centre on 22nd March 2019.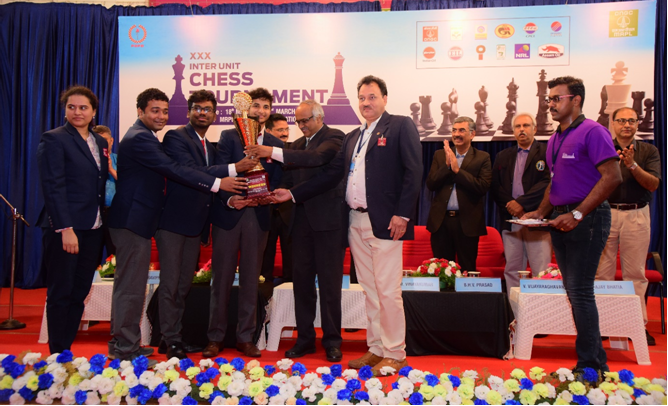 Shri V Vijaya Raghavan, Chief Arbiter announced the winners and highlighted the important achievements of the tournament. He expressed that it is a proud moment to have many top ranked players of our country here in this tournament.
Shri Lanka Ravi, International Master from ONGC recollected the chess events conducted by MRPL in 2010 and 2014 and thanked MRPL for conducting this event in a distinguished manner. Shri DV Prasad of Indian Oil appreciated the efforts of MRPL PSPB coordinator in scheduling the event accurately six months in advance. Shri Ashish Gupta of HPCL said that anyone can arrange a chess tournament but MRPL has conducted it with a human touch.
Shri Rajeev Kushwah, CVO expressed his happiness over appreciation and positive feedback about the event. He wished the winners and thanked all the participants.
Shri M Venkatesh, Managing Director spoke on the occasion and said that we are proud to say that MRPL as a subsidiary of ONGC has achieved highest crude processing capacity in a single location among the PSUs. Chess is a mind game but every single move is decisive to get victory or defeat, he said. We being in oil sector play a very vital role in the energy security of our nation and players add value to this critical oil sector, he said. It gives immense pleasure to have representatives of oil fraternity here, he said and hoped that the players have enjoyed the culture, language and food habits of this part of India during last one week.
Prizes were distributed to winners of the event. ONGC-A team won the Team championship, IOCL-A was the 1st runner up and BPCL were the 2nd Runner up.
Mr Lalith Babu MR, IOCL won the player of the tournament, Mr Abhijeet Gupta of BPCL won the Fair Play Award, Mr Hardik Jha, of MRPL won Most Promising Player of the Tournament, HPCL-B adjudged the best team in Non-Professional category and Mr Baruah PJ of IOCL (AOD) declared the Best Player in Non- Professional event.
Shri Ajay Bhatia, GM-HR & Admin who is PSPB coordinator from MRPL sports proposed the vote of thanks.