128th birth anniversary of Dr BR Ambedkar was celebrated in MRPL on 14th April 2019. On the occasion, Shri M Venkatesh, Managing Director, Senior Management Personnel and MSSEWA office bearers paid floral tributes to Babasaheb Ambedkar in the Administration building in the morning.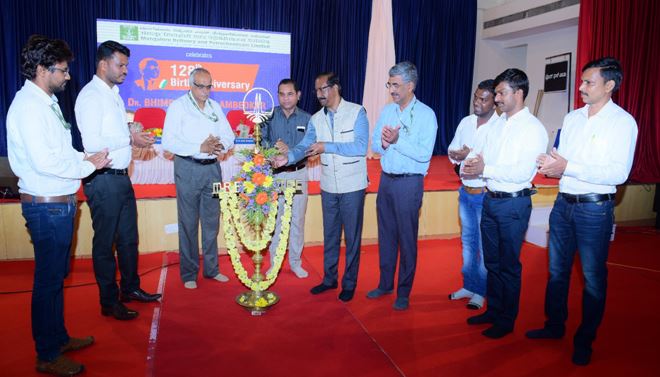 A stage programme was organised in the evening at MRPL Employees Recreation Centre. The programme began with lighting of lamp followed by floral tributes to Dr Ambedkar's portrait by the dignitaries. Mr Madhu & Team sung the invocation. Shri BHV Prasad, GGM-HR delivered the welcome address and introduced the Chief Guest Shri BH Anil Kumar, IAS, Additional Chief Secretary to GoK - Dept of Higher Education. GGM - HR recollected the helping hand rendered by Shri Anil Kumar during his tenure as DC, DK district in the initial difficult years of MRPL.
Shri BH Anil Kumar spoke on the occasion and recalled the challenges MRPL faced during his tenure as DC in 1996-98. The hard work and decisions taken at that time helped the company to grow and also to have such a development in this area, he opined. When we speak about Dr Ambedkar's life story, the discrimination faced by him are still prevalent in the rural areas of our country. Dr Ambedkar is responsible to get the Poona Pact signed and as a result of which reserved constituencies for SC/STs came into existence which are there even today, he observed. The constitution of India is a first social document which has such a large number of liberties for everyone and every institution including liberties for women, he said. Educate, organise and agitate was his mantra for eradication of social evils, he said and appealed everyone to ensure that their children are educated. It is a homecoming for him after 15 years, he said and thanked MRPL for inviting him for the programme.
Shri M Venkatesh, Managing Director spoke on the occasion and said just follow the basic rules and things will fall in line. He recalled the difficulties faced by Dr Ambedkar and said that it is his special talent that got him recognition from the Maharaja of Baroda, who granted the scholarship to study in Columbia University, as a visionary step. The four Doctorate degrees of Dr Ambedkar speak volumes of his talent and knowledge he had at that time. As the first Law & Justice Minister of Independent India he rigorously supported women's rights. Managing Director recalled many of his quotes and concluded by saying 'We are Indians firstly and lastly', the famous quote of Dr Ambedkar.
Shri B Ramesh Kumar, CGM – Security & Logistics proposed the vote of thanks and thanked all responsible for successfully executing the event. He stressed that we are lucky to be part of MRPL and have reached a stage from where we can extend a helping hand to the poor and needy.
Shri Mathias Praveen Pinto, Manager – Vigilance compered the event.
The Musical Evening followed the stage programme. DPS School students performed a skit and a dance. 'Team Surabhi', a dance troupe performed mesmerising dance performance and 'Team Velocity' enacted a skit on Dr Ambedkar. It was the enthusiastic audience present at the occasion for the entire programme that ensured the programme a complete success.