An awareness session on Communal Harmony
National Integration Week and Communal Harmony Campaign Week is being observed in MRPL from 19th November to 25th November 2019. As a part of the program an awareness talk on 'Communal Harmony and National Integration' was organised in Training Centre today. The speaker was Dr Charles V Furtado from St Aloysius Evening College, Mangalore. Good number of employees took part in the event with enthusiasm.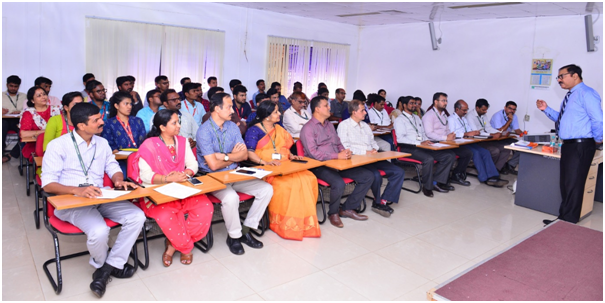 On the occasion Dr Furtado spoke on the privilege of being born in a culturally rich and diverse nation like India. He made a lively argument presenting incidents from his childhood and quotes from various writers which highlighted the essential secular outlook of Indian culture from the times immemorial. He stressed on the need to understand others point of view and the need to empathise with others. Quoting eminent personalities like Rabindranath Tagore, Mother Theresa, Dalai Lama, Maya Angelou etc., he called for the audience to be proud of their Indian-ness and to build a vibrant India by understanding and appreciating each other's differences. He said that differences are to be celebrated as they make life beautiful.
Sri, Rudolph Noronha, GM (CC) Introduced the guest, Shri CI Acharya, CGM – Int Audit thanked the guest speaker for his impressive talk on the subject. Employees in large numbers participated in the programme and everyone carried the message of Communal Harmony Week.