Inaugural Ceremony of Vigilance Awareness Week
The inaugural ceremony of Vigilance Awareness Week was held in Training Centre on 28th October 2019. The programme began with lighting of lamp by the dignitaries, namely Shri M Venkatesh, our Managing Director, Shri M Vinayakumar, Director Refinery, Ms Pomila Jaspal, Director Finance, Shri Rajeev Kushwah, CVO and Senior Management personnel present there.
Ms Smitha P and Ms Vasudha chanted the invocation.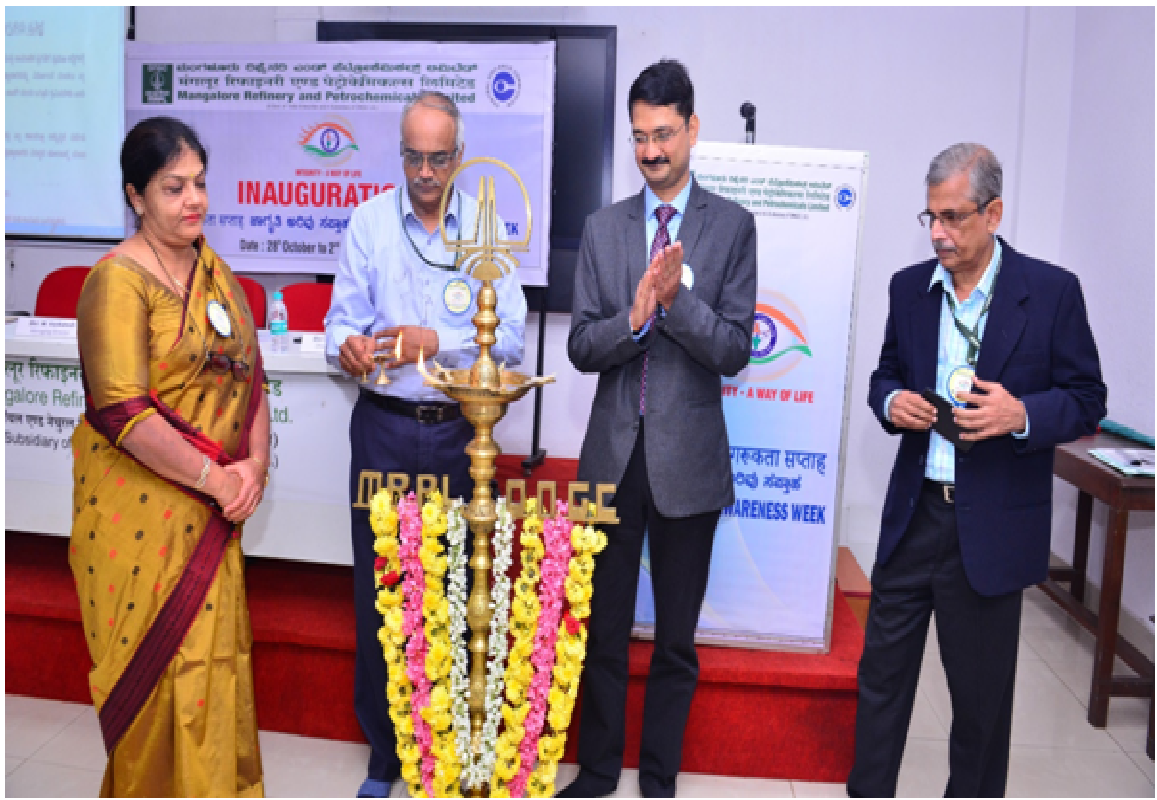 Shri BHV Prasad, GGM – HR welcomed the gathering. The integrity pledge in Kannada, Hindi and English were administered by our Managing Director, Director Finance and Director Refinery respectively.Shri Ramakrishna, GGM – Projects read out the message from Vice President of India, Shri Shrinivas Moturi, President MSA read out the message from Minister of State for Personnel, Public Grievances & Pensions and Shri Sudhendu KV, President- MEU read out the message from Central Vigilance Commissioner.
Ms Noopur K Bhalla, Manager- Vigilance gave the overview of activities carried out in last few days and the activities planned for the week as a part of Vigilance Awareness Week. Shri Rajeev Kushwah, CVO while delivering his inaugural speech said that the corruption is not only in the government sector alone but it is in the private sector and in all walks of life. It is the duty of every officer in public sector to ensurethat the rules and guidelinesare followed and Integrity is adopted as a way of life. Our Vigilance section is concentrating on improving systems in each department and employees should suggest the systemic improvements required in their respective departments.
Ms Pomila Jaspal, Director Finance while speaking on the occasion said that the Integrity is nothing but telling truth to oneself and it leads to higher productivity. She said that the prosperity remains only a dream if there is no integrity. Knowledge without integrity is waste and dangerous, she opined. Shri M Vinayakumar, Director Refinery said that when one does corruption always there is person on the other side who encourages it and both are equally guilty. We need to control this menace and sooner we control better it is for our country, he said. Transparency at work is the best tool to have control over this menace, he elaborated.
Shri M Venkatesh, Managing Director in his presidential address said that whenever the grievances arise, operators, shift in-charges, line managers or HODs, as the case may be, should deal them then and there. If these issues are not dealt early they escalate into the next level and are not healthy for the organisation and wherever necessary we need to do the systemic improvements, he said. Misuse of the system is another serious issue and we need to bring a cultural change to stop misuse of the system, he said. 95% of the efforts of our Vigilance team are the preventive measures, so we are hopeful that our vigilance team would lead us into 'Integrity - a way of life', he said.
Shri Girish K Rao, GM-HR propsed the vote of thanks and Shri NagarajBhat, Sr Manager – Vigilance compered the programme. A Mobile Van to spread the message 'Integrity - a way of life' was flagged off by our Managing Director, Director Refinery, Director Finance and CVO immediately after the inaugural programme.