MRPL Integrity Club Seminar 'Sanchaya' – 2019
As a part of the Vigilance Awareness Week program, 'Sanchaya" ChigurinindaPhasalinavarege', one day seminar was organised on 'Integrity – a way of life'on 20th October 2019 in association with the Rotary Club, Mangalore Port town at MRPL Employees Recreation Club(MERC).The students of 156 schools and colleges, Teacher coordinators, Rotary Club Members, family members, media persons, all about 760 people participated in the programme.MRPL had formed Integrity clubs in every school and college located in and around MRPL in order to create awareness among the students.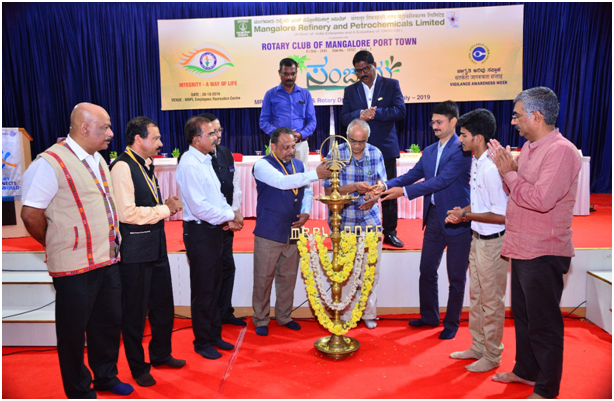 The program began with invocation from students from Vidyadayinee School, Surathkal. Shri BHV Prasad, GGM(HR)welcomed the gathering. NMPT students performed a welcome dance.The student leader Mr.Tushar K spoke about the purpose of the meet. The integrity pledge to all the integrity club members was administered by Shri Rajeev Kushwah, CVO in Hindi & Shri Keerti Prasad in Kannada.
While speaking on the occasion Shri Joseph Mathew, District Governor of Rotary (Club) District complimented MRPLand expressed his happiness about the excellent work of bringing together about 678 children from 158 schools and colleges.He appreciated the concept of the Integrity Club to inculcate the knowledge of integrity in the minds of young budding children. Even in testing times we should stand by our integrity and honesty, he reiterated.
While speaking on the occasion CVO MRPL, Shri Rajeev Kushwah, ITS, said corruption and Integrity are just opposite to each other. If you have absolute integrity, then there is no room for corruption.Your personal integrity, once established and earned, people believe and respect you. They are sure that you'll do the right thing every time, he said. Shri M Venkatesh, MD MRPL spoke and said that the world is moving towards artificial intelligence these days and children need to equip themselves with the most contemporary education and with the most traditional system. He appealed the students to develop good hobbies in addition to their regular studies.
Shri Santhosh Aithal, Advocate and Rotary Club member proposed the Vote of Thanks. Shri P Rajendra and Smt Poornima Kaulagi compered the entire programme. In the training session students were trained on ethical leadership development and humanitarian spirit by the office bearers of JCI and Rotary Club, namely Ms Saujanya Hegde, Mr Rajendra Kalbavi, Mr Suryanarayana Kukkady and Mr Sarvajna Thantri.Discipline wise all the office bearers of Integrity Club were trained on their respective roles. In the concluding session, Mr Surya Prakash Bhat graced the occasion. The student and teacher coordinators interacted and shared their views on the seminar.