Valedictory Ceremony of Vigilance Awareness Week
The valedictory ceremony of Vigilance Awareness Week was observed on 2.11.2019. Shri Rudolph Noronha, GM-CC welcomed the gathering. Shri Keerthi Prasad, Manager - Vigilance gave an overview of the activities carried out during the week.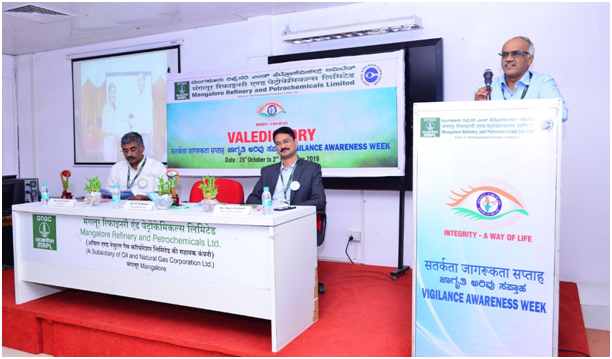 A Booklet on Vigilance guidelines and procedures was released during the programme. Prizes were distributed to the winners of various competitions conducted during the week. Shri BHV Prasad, GGM HR applauded MRPL Vigilance Team for successfully organising various Competitions in colleges, organising programmes like Integrity Club, Vendors' Meet and Walkathon effectively. Shri Rajeev Kushwah, CVO while speaking on the occasion said that he looks forward for some systemic improvements like quarters allotment, DPC, Performance Appraisal, Bill Tracking and Property Returns completely online. He welcomed suggestions for systemic improvements in different departments. He complimented OMPL for helping him to get the idea of Vigilance Trophies this year.
Shri M Venkatesh, MD MRPL spoke on the occasion and said that we have to create a system of transparency. He reiterated that if any grievances persist then the seniors should nip them in the bud. He complimented the Vigilance Team and Team MRPL for successfully organising the Vigilance Awareness Week.Shri B Ramesh Kumar, CGM - HR proposed the Vote of Thanks. Shri Mathias Praveen Pinto, Manager – Vigilance compered the event and Mr Manish Kumar Gupta, Manager - Vigilance guided the prize distribution ceremony.