MRPL conducts Onsite Mock Exercise in the presence of District Disaster Management group
MRPL conducted an onsite Mock Exercise in the refinery on 4th April 2019 in the presence of District Disaster Management group including Shri Narendra Babu, Deputy Director of Factories, Mangalore. The District Fire officer, DDP, DDMA and Industry representatives from the neighbouring industries also participated in the exercise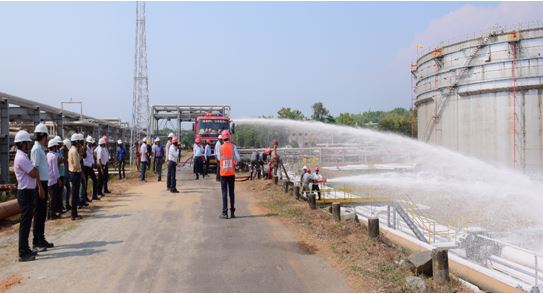 The mock drill was conducted in Oil Movement & Storage area FB7004D ATF tank, with the scenario being Aviation Turbine Fuel leakage from the tank and Fire. The Mock Drill continued for about 30 minutes during which fire fighting and cooling operation were carried out and readiness of the industry for handling any such emergencies was established.
Later a review meeting was held in the presence of Shri M Vinayakumar, GGM (I/c Refinery), MRPL to analyse the shortcomings and lessons from the mock exercise. Shri. Narendra Babu, Deputy Director of Factories, Shri Mohammad Zulfikar Nayas, District Fire Officer and Shri Vijay Kumar, DDP, DDMA from DC Office, who witnessed the Mock Drill complimented MRPL for the excellent fire-fighting and emergency handling abilities showcased during the Mock Drill. Industry representatives from HPCL, PMHBL, BASF, MCF also spoke and mentioned their observations.
In his concluding remarks, Shri M Vinayakumar, GGM I/C Refinery, MRPL assured the gathering that all positive observations will be deliberated and complied forthwith and thanked the Industry representatives for having participated in the exercise.