Valedictory Ceremony of OGCM – Saksham 2018
The Valedictory Ceremony of सक्षम OGCM (Oil & Gas Conservation Month) - 2018 was held in Conference Hall in Netravati building on 15.2.2018.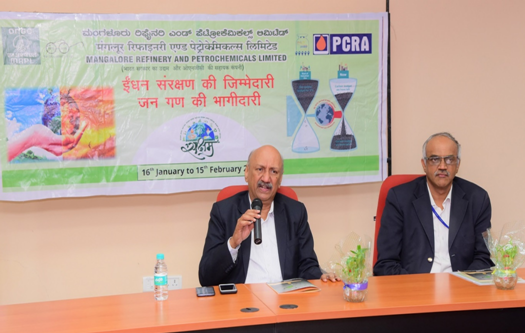 Shri Peter Praveen Pinto, DGM - TS welcomed the gathering. Shri SP Kamath, CGM – PE & Production Planning gave the overview of the events carried out during Saksham 2018. He mentioned that the Cyclothon, Competitions like Online Quiz & Article on 'Need of Energy Conservation and Impact on Indian Economy' for employees were the special events during OGCM 2018. The external auditors from IOC, Reliance and BPCL have conducted Furnace Efficiency Survey of MRPL and Engineers from MRPLhave visited other refineries for the similar survey, he mentioned. Our Retail Outlets have organised free pollution control checks at our Cargo gate RO and Kadri RO, he reported.
Shri M Venkatesh, Director Refinery spoke on the occasion and complimented Technical Services Team for conducting the event efficiently. He cautioned that we should improve year on year in the energy efficiency parameterand the real target is to get back the energy efficiency award, he concluded.
Shri H Kumar, Managing Director said that the PCRA is doing a good job for last couple of years in terms of creating awareness on energy conservation. Oil consumption in our country is growing at 10% and there will be more demand for the oil and it will be a challenge for the Refiners to meet the requirement of the country, he said. The awareness activities should not be confined to this one month alone and it should be extended to all through the year, he felt. He congratulated the Saksham team for conducting the event efficiently.
The prizes were distributed to the winners in various competitions conducted for employees and DPS children.
Shri Peter Praveen Pinto, DGM – TS proposed the vote of thanks. Ms C Saranya, Manager – Tech Services compered the event.